ART IN THE GARDEN
Art in the Garden is OMA Pittsburgh's first educational program. It's centered around investing in the resiliency and social and emotional development of Pittsburgh's youth. Art in the Garden supports youth in holding themselves and others in compassion and helping them to grow in connectedness to themselves, each other, and the earth.
Art in the Garden has an arts and ecology camp as well as monthly events for youth and families. Our arts and ecology curriculum is centered around the five core Social and Emotional Learning (SEL) competencies which foster values such as self-confidence, self-regulation, perspective-taking, compassion, communication, and ethical responsibility.
To learn more about Art in the Garden click here.
CAMP 2020!
Registration for the summer of 2020: Click here to register for summer programming. Please email artinthegardenpgh@gmail.com to be contacted for future events and programming.
When: 2020 Camp runs for six weeks, Monday-Friday from June 29-August 7th.
Time: Drop off is at 9 am (if you're interested in earlier drop off time, contact us) and pick up is at 1 pm.
Who: We have two summer programs: Children ages 4 to 11 and teens. The teen program is for youth ages 12-18 who are interested in being Junior/ Senior Counselors.
*Children younger than four may attend with a parent or guardian.
Where: Camp is held at Borland Garden in East Liberty at the corner of Black Street and North Beatty Street. Our rain location is the Obama School, adjacent to the garden.
Cost: Camp is free for all children eligible for free/reduced lunch and sliding scale for all other participants. Registration priority is given to underserved youth from the neighborhoods we serve. The actual cost per camper is $300/week.
Breakfast and Lunch: Breakfast and Lunch are free to all children. Please let us know if your children have dietary needs or food allergies/sensitivities.
Year-Round Programs
Interested in joining us for Family Fun Days or being in the loop about upcoming programming and events? Simply "like" our FB page , visit us here, or email us to let us know you're interested. Our email address is artinthegardenpgh (at) gmail.com
We Believe
Art in the Garden aims to affirm the cultural backgrounds of the youth we serve, focus on whole-child development, use restorative approaches to conflict, nurture relationships, and engage youth in arts and ecological activities that foster social and emotional development. Supporting the social and emotional development of youth contributes to the creation of a healthy, inclusive, and equitable society.  Above all, Art in the Garden seeks to enable youth to grow in connectedness to themselves, each other, and our earth. Our programming supports youth knowing—in deep and lasting ways—the interconnectedness of all living beings, that we are all whole and all belong.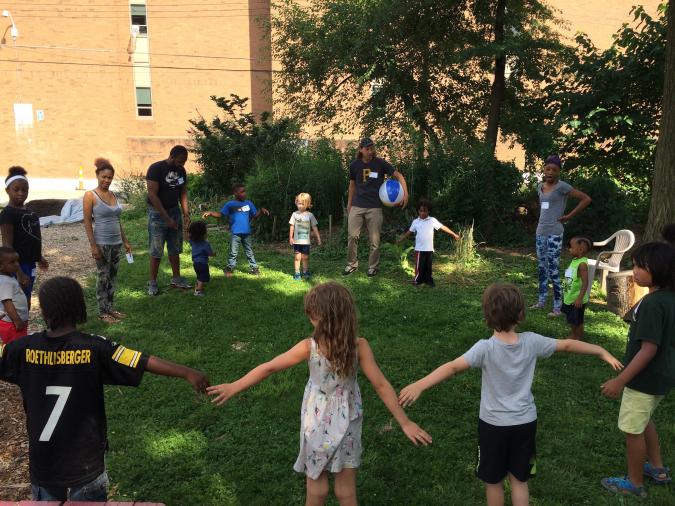 We believe that when we grow in our understanding of connectedness to ourselves, each other, and our earth, we are able to create healthier communities.
We believe mindfulness practices have the power to help youth as they work to reframe untrue and distorted or limiting beliefs and that this can create space for the positive transformation of self, family, and community.
We believe it is morally imperative to prevent early childhood adversity and equip adults with tools to support youth.
We believe that all people deserve access to healthy food.
We believe all people have a right to easily access and enjoy green space.
We believe in an environmental ethic that sequester carbon, creates wildlife habitat, and increases biodiversity for the benefit of all beings.
We believe in the transformative power and healing potential of art and nature.
Surviving to Thriving (S2T)
Surviving to Thriving training seminars are free and open to the public. Our vision is for Pittsburgh to become a model for best practices in social and emotional learning and in trauma informed care and resilience. In order to support this vision, we at OMA Pittsburgh hold Surviving to Thriving seminars. 
Attendees gain an understanding of social, emotional, mental and behavioral health issues and learn necessary skills to support youth. Keynote speakers and workshops teach concrete, actionable holistic skills adults can use to support youth in developing resilience and stronger brain architecture including: developing mindfulness practices, strengthening conflict transformation skills, fostering supportive relationships with youth, and skills that support youth for development of social and emotional intelligence. Using community collaborative learning sessions, we are developing greater awareness about the needs that exist for healthy youth development and holistic and accessible skills that can support the healthy development of mind, body, and spirit beyond our program in all aspects of their lives.
Contact
To contact us, please email: artinthegardenpgh@gmail.com
Telephone: 412-592-5711
For more information visit us at: https://omaartinthegarden.org
Support
Art in the Garden is made possible by support from individuals like you, Borland Garden, The Neighbors Committee, and The Heinz Endowments.
"The Heinz Endowments is devoted to the mission of helping our region prosper as a vibrant center of creativity, learning, and social, economic and environmental sustainability. Core to our work is the vision of a just community where all are included and where everyone who calls southwestern Pennsylvania home has a real and meaningful opportunity to thrive."
OMA Center for Mind, Body and Spirit  
100 Rutledge Drive
Pittsburgh, PA 15215
(OMA is a 501c3 so your donation is tax deductible.)