OMA Center for Mind, Body and Spirit's Art in the Garden's year-round programming supports youth in holding themselves and others in compassion and growing in connection to self, others, and the earth.
Art in the Garden Summer Camp 2023 celebrates ten years of youth and family programming!
Join us this summer to make new friends and connect with old friends. Come drum and dance with Sankofa Village for the Arts, create ceramic murals with the Pittsburgh Glass Center, learn drawing and graffiti techniques, try out being a pizza chef by baking your own pizza in the garden's wood fired oven, play water games and build your teamwork skills, harvest herbs and make plant medicine, learn how plants sequester carbon to help mitigate climate change, and more! All activities are designed to build confidence and give campers opportunities to experience themselves as agents of positive change.
In order to support this journey, Art in the Garden's programs address the impacts of childhood adversity and trauma on health and learning. We use an intentionally trauma-informed, anti-racist, LGBTQA+ welcoming, culturally responsive, joy-centered and liberatory pedagogy. Art in the Garden's programming in the arts and ecology gives youth tools to reduce stress and empowers confidence, compassion, and civic engagement. Youth deepen self-awareness by identifying and honoring their emotions, thoughts, and values; youth strengthen relationship and teamwork skills through restorative approaches to conflict; and youth develop responsible decision-making skills through solutions-based projects. Workshops with community partners empower youth to see themselves as creators of positive change, so that they may live their fullest expression of themselves.
Art in the Garden supports youth knowing—in deep and lasting ways—the interconnectedness of all living beings, that we are all whole and all belong.
WHAT WE BELIEVE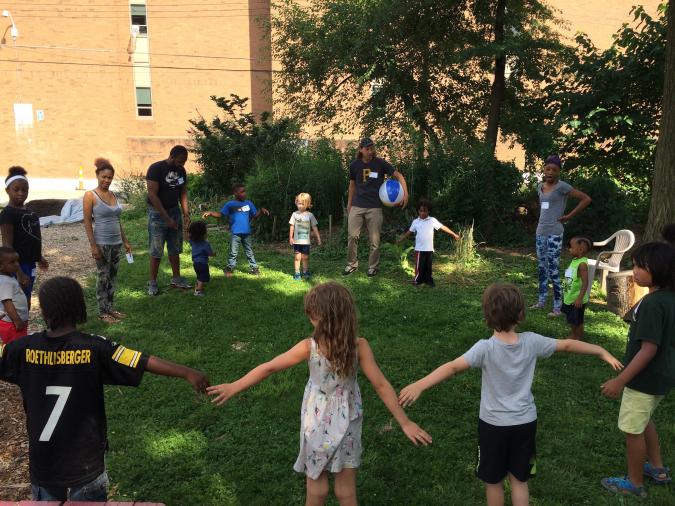 We believe in systems powered by love and justice.
We believe it is morally imperative to prevent early childhood adversity.
We believe that when we grow in connectedness to ourselves, each other, and the earth, we are able to create healthier communities.
We believe mindfulness practices have the power to help youth as they work to reframe untrue and distorted or limiting beliefs and that this can create space for the positive transformation of self, family, and community.
We believe that all people deserve access to healthy food.
We believe all people have a right to easily access and enjoy green space.
We believe in an environmental ethic that sequester carbon, creates wildlife habitat, and increases biodiversity for the benefit of all beings.
We believe in the transformative power and healing potential of art and nature.
SUPPORTERS
Art in the Garden provides free programming and meals to underserved families, which is particularly crucial during this time. Please consider donating to support this program.
You can also donate by writing a check to OMA Center for Mind, Body & Spirit (AITG) and mailing it to:
OMA Center for Mind, Body & Spirit
c/o Paul Clough, Treasurer
5890 Kings School Road,
Bethel Park, PA  15102.
Art in the Garden is a program of OMA Center for Mind, Body and Sprit, a 501c3 non-profit. We are supported by donations from people like you and donors including: OMA Center for Mind, Body and Spirit, Borland Garden, the African Healing Garden, Rivers of Steel, the Pittsburgh Cultural Trust, the Burkholder Foundation, Earthen Vessels Outreach, Grounded, Soergel's Orchards, The Neighbors Committee and The Presbyterian Women at East Liberty Presbyterian Church,  WTAfter3, Pacific Playtents, CityGrows, Shadyside Worms, Choolaah, 412 Food Rescue, Wigle, the Window Box Garden Club, the East End Food Coop, Ceramic Supply Pittsburgh, and The Heinz Endowments. Much gratitude for making the work we do possible.