Art in the Garden Families and Friends…
OMA Pittsburgh's Art in the Garden invests in the resiliency and social-emotional development of youth. To care for the health of all involved, and to prevent the spread of covid-19, Art in the Garden's winter session will be virtual. Through this program, we are committed to helping to meet the needs of your family.  
WINTER CLAY PROJECT (Virtual Family Camp)
LET'S MAKE A MURAL!
Led by The Clay Project teaching artists Sandra Moore and Shawn Terrell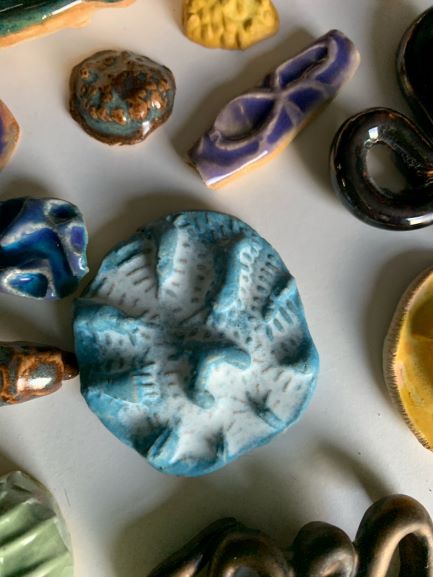 The Clay Project is creating a community-made ceramic mural. We invite you and your family to join us virtually. We get together on Zoom for 40 minutes once a week. We are creating small hand-built pieces, the design for the mural. You learn clay building techniques during our online sessions. Technique U-Tube videos will be shared. Working together we are creating a mural.
This is an all-skill and all ages class. You can learn the basics or develop more advanced skills making coils, stamping, pinching, doing slab work and 3D additive and subtractive processes, and assemblage. When restrictions are lifted, we will plan the building of the mural at Borland Garden. We hope that you will join us for this beautiful collaboration!
Virtual classes: Wednesdays from 4-4:40 pm, February 17th through March 24th
Material pick-up and mosaic drop-off: Thursdays from 4-6:30. *The first camp kit pick up is Thursday, February 11th.
Pick-up is at Borland Garden in East Liberty, 527 North Beatty Street (the corner of Black Street and North Beatty Street)
EACH WEEK FAMILIES RECEIVE:
A Camp Kit (with all of the supplies needed for mural making class including clay and tools)
Virtual classes where campers can create together with teaching artists and new and old friends alike
A free book of your choice from The Storymobile
Families can also sign up to receive free weekly meals from Earthen Vessels and masks
COST: $10 registration fee per family. Camp is FREE for all all families experiencing poverty.  In order to support economic justice, we ask that families who can afford it make a donation to support the cost of this six-week program. We suggest $30 – $150 dollars per family.  Donate thru PayPal Here
Want to know more about Art in the Garden? Click HERE.