March 20, 9am – 5pm
117 Victoria Hall
University of Pittsburgh
Olmo Ling Tibetan Bon Center and Institute offers a series of workshops on contemplative practices to support the dying and prepare for a peaceful and conscious death. The series integrates clinical practice with teachings and practices from the Tibetan spiritual traditions. This first workshop is a collaboration with University of Pittsburgh School of Social Work. Participants will learn how to help the dying person develop openness and trust toward the  process of dying and let go of fear and attachments through the contemplative practice called Ngo Trod in Tibetan.
---
Suzanne holds nothing back in this practical, hands-on course for students at all levels. She will teach you a step-by-step process for connecting with those on the other side.  You will have ample opportunities to improve your abilities and experience new levels of connection across the veil.
Suzanne has confirmed that the Serving Spirit Level One class is rescheduled for AUGUST 22-23, 2020.   Same location, same times, same content and in-person!  Registration has been updated to reflect the new dates and there will be seats available.  If you had registered previously, your registration has been changed for the new dates and there is no further action required unless you need to cancel. Please DO NOT contact the hotel yet to change rooms.  We will determine if the hotel will automatically move your reservation to the corresponding dates in August and will update you soon. For those who cannot attend the class on August 22-23, a full refund minus a $25 processing fee will be issued.  Please contact Suzanne Geismann at her email or phone no. on her website.
The only prerequisites for students are the belief that spirit communication is possible and the desire and intention to make the connection.  Not all students intend to become mediums—over half are in the class to improve their connection with higher consciousness for their own spiritual growth. Come prepared to immediately apply what you learn, practicing with fellow students and with the cooperation of those on the other side.
$275 per Person – More details here.  Register here.
---
Become immersed and find repose in the quiet embrace of mother earth.
Think about what it feels like to be in the forest— to be surrounded by ancient giants with bright, soft leaves and deep protective roots. You hear the water running through the veins of the earth and each small creature kept safe and alive in the pristine expanse of green canopy.  What can you touch? Smell? This is the essence of shinrin-yoku, or the intentional act of becoming immersed and finding repose in the quiet embrace of mother earth.
Forest bathing is not exactly what it sounds like— no bathtubs involved. As a translation from Japanese, 'bathing' refers to the act of spending time within nature and allowing this experience to strengthen our connection to liminal space and transformation.
---

His Holiness will give an inspirational talk on the essence of compassion and its importance in our lives. Following the talk, His Holiness will offer individual blessings for your spiritual practice, and for healing, longevity and prosperity.
His Holiness will be offering a daylong teaching on Sherab Jamma, the female Buddha of love and wisdom at Olmo Ling temple. Sherab Jamma is one of the four 'Transcendental Lords' of Bon and the highest deity of the Bon tradition.
We warmly invite you to join us for this precious opportunity to spend time with His Holiness and build a connection with the worldwide spiritual leader of Tibet's ancient Bon tradition. We will enjoy authentic Nepali entrees and desserts prepared by Uttam Tamang's Nepali Asian Restaurant.
His Holiness 34th Menri Trizin, spiritual head of Bon and abbot of Menri Monastery, will offer the empowerment and blessing of the wisdom deity Sherab Mawe Senge. The abbots of Menri are regarded as manifestations of Mawe Senge. Therefore, receiving this empowerment from His Holiness is especially powerful and will have benefits for this life and for the future. Children and families are warmly welcomed.
---
Green Heiress Spring Open House
Sunday May 19, 2019    1 PM – 4 PM
1150 Freeport Rd, Pittsburgh PA, 15238
See details and register
---
Say "I Do" To You
Weekend Workshop for Women
April 27-28, Saturday-Sunday
58 Bryant Street, Pittsburgh PA, 15206
---
Lunar New Year Vision Board Bash
Tuesday, February 5, 2019, 10:00 AM – 2:00 PM
Green Heiress Holistic Health, 1150 Freeport Road, Pittsburgh, PA 15215
COME OUT AND PLAY! GET CLEAR VISION!
Learn how to create a powerful vision board that will help you align with and manifest your dreams and intentions! Guided meditation, journaling, intention setting and more! We'll provide the supplies (poster board, magazines, markers, tape, glue, scissors and the basics to create your board).
Beyond Mindfulness: Suffering and Transformation
Pittsburgh, PA with Tempa Dukte Lama
Saturday January 19, 9:30am-5pm and Sunday January 20, 2019, 10am-1pm
Olmo Ling Bon Center & Institute, 1101 Greenfield Ave, Pittsburgh, PA 15217
Mindfulness is the basis of all of Buddha's teachings. It is the foundation of all the paths of liberation. In this retreat Tempa Lama will offer teachings on the Four Foundations of Mindfulness.
---
Walking Peace Together
An Annual Celebration of Buddha's Birth, Enlightenment and Paranirvana
The Buddhist Society of Pittsburgh
Sunday April 29, 2018, 3:00 – 5:00 PM
Allegheny Unitarian Universalist Church
416 W North Avenue, Pittsburgh, PA 15212
---
How to Meditate – Daylong Retreat with Tempa Dukte Lama
Saturday January 13, 2018, 9:30am-5pm
Olmo Ling Tibetan Bon Center & Institute
1101 Greenfield Ave, Pittsburgh, PA 15217
---
Chod Healing Retreat
Guided by Tempa Dukte Lama – Join us to experience the healing power of the ancient Bon Chod ritual "Laughter of the Dakinis". Bon lama Tempa Dukte Lama will perform this special healing prayer ritual for the benefit of our community…
Saturday December 9, 9:30am-5pm
Olmo Ling Bon Center & Institute, 1101 Greenfield Ave, Pittsburgh, PA 15217
---
ARE YOU INTUIT
A weekly podcast focusing on angelic encounters and Divine connections. Hosted by Lillie Leonardi and recorded live, each episode explores a story about the Divine. See Facebook page at www.facebook.com/areyouintuit/
Don't miss Lillie's interview with Gail Hunter on December 14th!
---
THE HEALING CIRCLE:
A Deep Dive into our Stories for Personal Healing and Transformation
Wednesday, September 20th, 6:30-8:00 p.m.
Exhale Pittsburgh, 222 Boulevard of the Allies
Fourth Floor, Downtown Pittsburgh  15222
Cost $35/Each Month
Please click this link for details Healing Circle
---
The Illuminate Pittsburgh Mind-Body-Spirit Festival
Sunday, May 7th from 11am-6pm at the Crowne Plaza Pittsburgh South, 164 Fort Couch Road, Pittsburgh, Pennsylvania 15241  SEE MORE >>
---
Yoga with Adrienne
Yoga Classes and Fundraiser
Adrienne Totino is the most  amazing  person and gifted yoga instructors I have ever known… SEE MORE >>
---
The 2nd Annual Pittsburgh Mindfulness Fair
March 25, 2017
We are in collaboration with CMCS (Center for Mindfulness and Consciousness Studies) from University of Pittsburgh and dozens of other organizations. We are having a few dozen free classes, meditations, lectures, etc., and free food.
Facebook event: https://www.facebook.com/events/715872785250979/
Flyer: https://s3.amazonaws.com/ADHDMastery/Mindfulness+Fair+Flyer.pdf
Program schedule: https://s3.amazonaws.com/ADHDMastery/Program+for+Second+Mindfulness++Fair.pdf
---
Season for Nonviolence Broadcast Launch
Monday, January 30th, 2017, 8:00pm EST
Go to amplefield.com for more information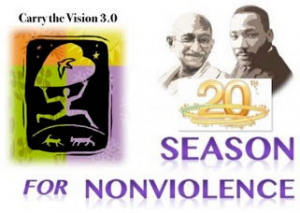 ---