Art in the Garden is OMA Pittsburgh's first educational program. It's centered around investing in the resiliency and social and emotional development of Pittsburgh's youth.

Art in the Garden is a free summer program held in Borland Garden, an urban green space in East Liberty. We are particularly invested in meeting the needs of underserved youth. We believe that fostering the social emotional intelligence of the next generation—which often means helping youth develop tools to process and heal from trauma—is a critical component for a healthy, inclusive, and equitable society.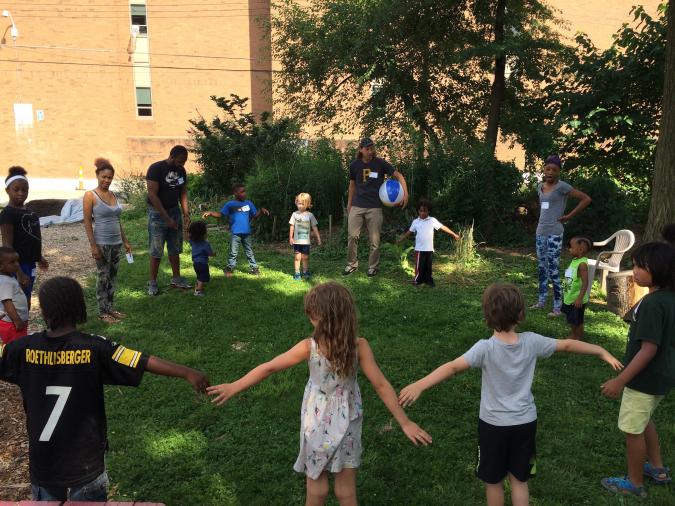 We believe people of all ages thrive when they know healthy ways to recognize and express their emotions. Research shows that when children can better recognize, understand, express and regulate their emotions, their emotional intelligence and social skills increase, anxiety and depression decrease, they are less likely to bully others, they have better academic performance, and they have stronger leadership skills.
Above all, Art in the Garden seeks to enable youth to grow in their understanding of connectedness to themselves, each other, and our earth. This program supports youth in their knowing—in deep and lasting ways—the interconnectedness of all living beings, and the ways in which we are all whole and all belong.
Also see this collaboration project: Clay work that teaches resilience, in the Art in the Garden summer program.
From Surviving to Thriving
Our vision is for Pittsburgh to become a model for best practices in social & emotional learning and in trauma informed care & resilience. In order to support this vision, we have held two professional development workshops, "From Surviving to Thriving" for Art in the Garden educators, community partners, staff, and others working with youth. These workshops support adults in developing mindfulness practices, strengthening conflict transformation skills and building skills that foster supportive relationships with youth. Participants have shared they also feel better equipped to support youth in developing resilience and social and emotional intelligence.
Community Partners
In addition to the core set of daily activities, we have community partner organizations who visit Art in the Garden to provide a unique experience for youth. 
Balafon West African Dance Ensemble instructors Mama Kadiatou Conte-Forte and Linsey McDaniel will bring music and dancing to youth each week. These sessions will teach youth about West African musical and performance traditions, using sound and movement as a tool for regulating emotions.
The Storymobile from Reading is FUNdamental Pittsburgh will bring stories, activities, books, and literary resources to Art in the Garden. Each time The Storymobile visits, youth will be given a book to expand their home libraries.
The Clay Workshop with ceramic artist Sandra Moore, Shawn Terrell, and Diamond Beck provides the tools and materials for youth to make a series of unique clay artifacts. Youth learn about a variety of surface treatments such as burnishing, stamps, texture and glaze as well as the low fire technique called Horsehair Raku. As youth discuss what their clay piece needs to survive the firing, which they will do in a kiln built on site, they also have the opportunity to discuss resilience and what they each need in order to thrive in the face of challenges. Building on sequential firings, youth will learn to create more durable and better constructed pieces. Youth will also make blue marbles for the "Blue Marble Project" which they will be able to use throughout Art in the Garden and beyond as tokens of gratitude when they notice someone making a choice that helps take care of our blue planet. The Clay Workshops' hands-on approach of student-lead creation is magical and empowering.
Perennial Abundance with Sten Carlson is a response to the rapid pace of global climate change, and growing anxiety among youth about its effects on their future. Its purpose is to create a network of food forest school gardens to serve as outdoor classrooms where children will learn the regenerative practices needed to help stop and reverse climate change. Youth learn about and contribute to the emerging field of carbon farming, improve ecosystem health, increase food security, beautify their community, and produce high yields from widely useful plants.
Mindful Kids Pittsburgh has done two pop-up sessions with us this summer. Mindful Kids Pittsburgh provides students with a social-emotional toolbox to successfully navigate through the day and beyond by reducing behavior issues, increasing self-awareness and regulation through the regular practice of yoga and mindfulness.
Goat Rodeo comes to Borland Garden to help demonstrate the ways animals help to heal landscapes. Youth get to see the goats eat weeds, including poison ivy, and turn the weeds into poop, that fertilizes the soil. The goats also teach us about friendship and non-judgmental awareness.
Creatives for Climate collaborative Kirsi Jansa is working with one of our Junior Counselors to create a short film about the youth and their connection with the earth.
Earthen Vessels provides free breakfast and lunch for all of the youth at Art in the Garden.
History
Art in the Garden was founded six years ago by Scilla Wahrhaftig, the former head of the Pittsburgh branch of the American Friends Service Committee. (Two of our 2018 Junior Counselors were former Art in the Garden Youth. We're so proud they have chosen to be leaders and we're so grateful to have them on staff.) Art in the Garden aims to fill a void in East Liberty for activities for youth by engaging them in Borland Garden in an active, structured, and supportive way. Art in the Garden has been a thriving summer program in Borland Garden, serving as many as twenty youth on a daily basis. Every year, youth and their families have asked us to expand the program. In 2017, we expanded the program from a few hours one day a week to three days a week, from 9-1. This year, we have begun to collaborate with other city gardens and are offering a professional development workshop in social & emotional learning and in trauma informed care & resilience. 
We Believe
Borland Garden has become a mainstay for youth in East Liberty. Youth and their family members have expressed both a desire and need for expanded summer programing in the garden.
We believe that when we grow in our understanding of connectedness to ourselves, each other, and our earth, we are able build a better neighborhood.
We believe mindfulness practices have the power to help youth as they work to reframe untrue and distorted or limiting beliefs and that this can create space for the positive transformation of self, family, and community.
We believe that all people deserve access to healthy food.
We believe all people have a right to easily access and enjoy green space.
We believe children need nature and we believe in the transformative power and healing potential of nature.
Leaders
Art in the Garden Staff is Emily Carlson, Founding Director; Callie Gropp, Professional Development Coordinator; Molly Berntsen, Program Director; Annie Derek, Lead Teacher; Vivian Lee Croft Assistant Teacher; Kastler Joseph, Assistant Teacher; Yasmin Sacks, Intern; Isabel Kinnane-Smith, Senior Counselor; Cycnere Pitts, Junior Counselor; Rico Cooper, Junior Counselor; Annabelle Small and Kayla Small, Top-Notch Substitute Counselors; with Tremendous Support from Deb Carter, Sten Carlson, Gail Hunter, and OMA volunteers.
Funding
Art in the Garden is supported by donations from people like you and a generous grant from The Heinz Endowments.
"The Heinz Endowments is devoted to the mission of helping our region prosper as a vibrant center of creativity, learning, and social, economic and environmental sustainability. Core to our work is the vision of a just community where all are included and where everyone who calls southwestern Pennsylvania home has a real and meaningful opportunity to thrive."