6-Week Series Beginning Monday, October 8th, Meeting Weekly
10:00 am 11:30 am Monday mornings

Sponsored by OMA
Classes held at Green Heiress Holistic Health
209 Commercial Avenue, Aspinwall, PA 15215
$20 per class drop-in or $108 for entire 6-Week Series (10% discount)
TICKETS ON SALE NOW!
6-Week Series:
October 8, October 15, October 22, October 29, November 5, November 12
Description:
What is the true nature of our lives? Why are we the way we are? Are our inclinations and skills inherent or learned? How does suffering arise in our minds? What are the ways to enhance our well-being? These are common questions we ponder over when we seriously think about ourselves. The philosophy of the Buddha addresses these issues and provides a perspective to rethink the main concerns of our lives.
This 6-week course (meeting once a week) introduces the life of the Buddha and core principles of Buddhist philosophy. During 6 class sessions, students will explore Buddhist explanations of
life and the world, Buddhist techniques to overcome suffering and Buddhist insights into thehuman potential for freedom.
Topics and class dates:
1. 10/8 - The Life and the Nature of the Buddha
2. 10/15 - Dissatisfaction and Its Causes
3. 10/22 - The Path of Inner Peace
4. 10/29 - The True Nature of Our Being
5. 11/5 - The Doctrine of Karma
6. 11/12 - The Potentials of Human Mind
Recommended Text:
The Heart of the Buddha's Teachings by Thich Nhat Hanh (Broadway Books, 1999).
Instructor: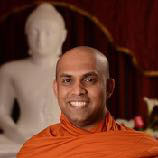 Bhante Pemaratana is the head-monk of the Pittsburgh Buddhist Center in Natrona Heights,PA. Born in Sri Lanka he moved to the US in 2008. He holds a Master's Degree in Philosophy from the National University of Singapore and a PhD in Religious Studies from the University of Pittsburgh. Currently, he teaches at the University of Pittsburgh as a part-time faculty. He offers workshops on meditation at the Pittsburgh Buddhist Center, Yoga Studios and public libraries in the greater Pittsburgh area.