Healing the gut, balancing hormones and changing the mindset.
7:00pm Event begins. Doors open at 6:15pm for light reception (wine BYOB and also provided by OMA)
La Dorita (on Main St., Sharpsburg, immediately near the Highland Park Bridge) REAR ENTRANCE
2312 Main Street, Pittsburgh, PA 15215
Price at Door: $20.00
$15.75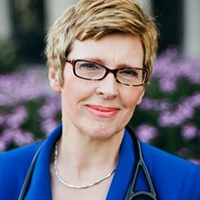 Did you know that the bacteria and other microorganisms that make up your intestinal microflora play a major role in your overall mind-body health?   And that about 80-90% of your body's total serotonin is found in the gut, not in the brain?
Whether you are interested in feeling better physically and/or mentally, or if you have been wanting to lose weight, please join us for this very informative presentation as Dr. Ilona Berkoben, MD speaks to us about the importance of having a healthy, strong digestive tract.  Come learn about the main factors that are influencing our microflora and how this is affecting our health and happiness.   We'll talk about our little invisible friends known as the microbiome and how they communicate with our brain and can even influence the  types of foods we crave!
Come with a dose of curiosity and return with a larger dose of inspiration to change the way you look at your gut.
ILONA BERKOBEN, MD is a Health and Wellness Coach, founder and CEO of IHB Consulting, LLC.  She is on a mission to end the dieting nightmare, by healing the gut, balancing hormones and changing the mindset. As a physician, she could see the catastrophic consequences of a poor lifestyle and bad choices.  Ilona's coaching style is unique, comprised of different coaching methods backed by the science of medicine.  She specializes in gut health and weight loss, with a total transformation of her clients.  Facing many challenges in her own life she understands the struggle and pain her clients are going through. 
You can learn more about Dr. Berkoben at www.drilona.com.
*These statements have not been evaluated by the Food and Drug Administration. This information is not intended to diagnose, treat, cure, or prevent any disease.
Visit our website www.OMApittsburgh.org to sign up for email announcements