If your subconscious mind is 1000 times more powerful than your conscious mind, what controls it?
6:30 pm Event begins. Doors open at 6:00 pm for light reception (wine BYOB and also provided by OMA)
La Dorita (on Main St., Sharpsburg, immediately near the Highland Park Bridge) REAR ENTRANCE
2312 Main Street, Pittsburgh, PA 15215
ADMISSION IS FREE (Donations from the heart accepted)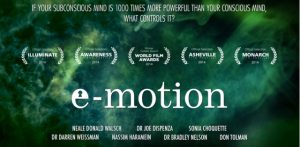 E-Motion is an uplifting and inspirational feature length documentary destined to change the way humanity thinks about their health and well- being.
Imagine a world where the trapped emotions, fears, anxieties and unprocessed life experiences we hold in our bodies are the source of everything that ails us.
That's the world we live in.
Now imagine a world where everyone is manifesting from their heart the perfect creation that's inside each of us. Imagine a world where abundance, inner peace, longevity and loving relationships abound. Imagine emotion experts from around the world sharing their wisdom and negative emotion clearing techniques to light a new pathway for humanity.
Imagine we are sacred, spiritual beings here for a much larger reason, serving a much higher purpose, a divine purpose.
That's where we are going.
For more information about e-motion visit www.e-motionthemovie.com