Presented by Sheila Collins and Christine Gautreaux
7:00 pm - 9:00 pm. Doors open 6:15 pm for light reception & CASH bar.
The Twentieth Century Club
FREE parking in UPMC lot across the street!
4201 Bigelow Boulevard, Pittsburgh, PA. 15213
Please offer a Donation from the Heart when attending this event.
Join authors Sheila K Collins PhD and Christine Gautreaux, MSW as they celebrate and perform excerpts from their recently released Amazon best-selling book, Stillpoint: A Self-Care Playbook for Caregivers to Find Ease, and Time to Breathe, and Reclaim Joy.
With the support of the Wing & A Prayer Pittsburgh Players, this part lecture with demonstration and part improvisational InterPlay performance includes stories, poems, music, and dance, all addressing the need for self-care and the power of art to help the 45 million people, most of them women, who care for others in our society.
Books available for purchase to be signed by the authors.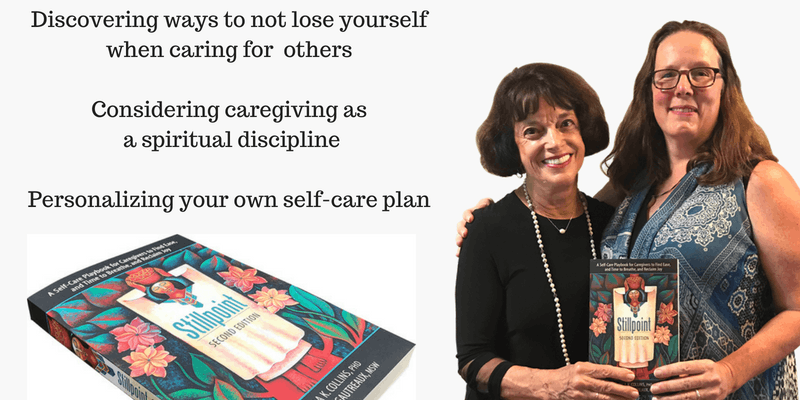 Sheila K. Collins, PhD
Sheila has referred to herself as a "dancing social worker" for over 40 years. Bringing the perspective of a dancer and theater artist to her work as a social worker, professor, clinic director, keynote speaker, and organizational consultant, she writes, speaks and advocates for the power of play, dance and the expressive arts to help us make it through life's toughest challenges.
Stillpoint was written originally to help social work students with their self-care, and the revision as a response to the proliferation of care-giving responsibilities in women's lives. Her award winning book, Warrior Mother: Fierce Love, Unbearable Loss, and the Rituals that Heal, tells of her journeys with two of her three adult children and her best friend through their life-threatening illnesses and deaths, and of the rituals that helped her family to heal. Her engaging 2016 TEDx talk, "When Death Threatens," demonstrates the challenge and the gifts of being a caregiver to a loved one dealing with a death-defying illness. She currently consults with individuals and organizations, helping them to tell their stories in transforming ways and directs the improvisational InterPlay troupe, Wing & A Prayer Pittsburgh Players. Her blog, Dancing with Everything appears on her website, https://sheilakcollins.com/
Christine Gautreax, MSW
Christine Gautreaux holds a Bachelor's and Master's Degree in Social Work and is dedicated to the pursuit of play, joy, art & social justice. Christine's superpowers include connecting people, helping folks manifest their dreams, standing up against injustice and using art to make a difference in the world. She currently uses performance art, movement, poetry, storytelling and Interplay to address issues of oppression with women who are incarcerated, people living with severe and persistent mental illness and homelessness. She also works with activists and artists to maintain balance and self-care during these intense times.
Christine has professional experience with successful grant writing, community organizing and social media marketing. She is a life coach for caregivers who are burnt out, ready to take back their own life and make it delightful again. She is the co-author of Stillpoint: A Caregivers Playbook to Find Ease and time to Breathe, and Reclaim Joy.