6-Week Series Beginning Monday, January 14th, Meeting Weekly
11:00 am 12:30 pm Monday mornings

Sponsored by OMA
Classes held at Green Heiress Holistic Health
209 Commercial Avenue, Aspinwall, PA 15215
$20 per class drop-in or advance ticket 
and $108 for entire 6-Week Series (10% discount)
TICKETS ON SALE NOW!
6-Week Series, Mondays, beginning January 14
Class Dates REVISED: 1/14, 1/28, 2/4, 2/18, 2/25, 3/4
Class Time:  11:00 am - 12:30 pm 

Bhante Pemaratana will be back with us for another 6-week series, based on Buddhist Philosophy. This time we will learn about the philosophy behind meditation (Theory) and techniques of meditation practice (Practice).  If you have been to Bhante's classes, you already know what a gift the time spent with him is.  If you have not, we hope you consider adding this little piece of calm and bliss to your Mondays!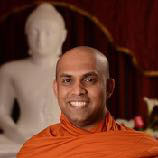 Bhante Pemaratana is the Chief Abbott of the Pittsburgh Buddhist Center in Natrona Heights,PA. Born in Sri Lanka he moved to the US in 2008. He holds a Master's Degree in Philosophy from the National University of Singapore and a PhD in Religious Studies from the University of Pittsburgh. Currently, he teaches at the University of Pittsburgh as a part-time faculty member. He offers workshops on meditation at the Pittsburgh Buddhist Center, Yoga Studios and public libraries in the greater Pittsburgh area.