In this interactive two hour workshop, we will learn about fascia, connective tissue, and more ... and you will walk away with simple movement tools to help many physical symptoms
7:00pm Lecture begins. Doors open at 6:15pm for light reception (wine BYOB and also provided by OMA)
La Dorita (on Main St. in Sharpsburg immediately near the Highland Park Bridge) REAR ENTRANCE)
2312 Main Street, Pittsburgh, PA 15215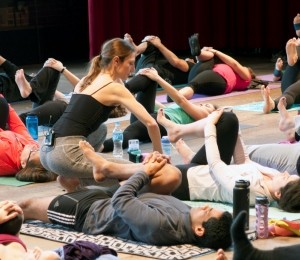 We'll learn about L's hands on technique of Rolf Method of Structural Integration and her design of RolfYoga that compliments this hands on bodywork addressing fascia. 
You will walk away with simple movement tools that will help many physical conditions that you may be experiencing.  Class will be divided into two sections once we get going, with movement ques from L' and her colleague, Mark Staley.  
Please wear comfortable clothing.  No yoga experience required.  Open to all levels of movement.
L'aura Marie Campisi - L' has dedicated her life to self realization through the discovery of yoga, bodywork, walking meditations, nutrition, a rooted spiritual practice and internal cleansing. A gymnast since the age of four, L' had an injury to the hip at fourteen which allowed her to take a step back and heal her body. After finding little relief through more conventional care, she took it upon herself to find other means of recovery and positive embodiment.
L' offers a rich understanding of the human form through her extensive and varied training. She has been facilitating body-mind education for over 15 years, including several styles of yoga ranging from Ashtanga to Hatha, to her most recent  devoted teaching of RolfYoga.
To learn more about L', Yoga Medicina and The Center for Structural Wellness, please visit www.yogamedicina.com
*These statements have not been evaluated by the Food and Drug Administration. This information is not intended to diagnose, treat, cure, or prevent any disease.