From Damanhur University, a first-year Mystery School Class taught by Shama Viola, Ambassador from Damanhur, Italy
10:00 am 6:00 pm Thursday and Friday
Dates: THURSDAY November 8th - FRIDAY November 9th
Times: 10 am to 6 pm with 1 hour break, both days
Location: 221 Whetherburn Drive, Wexford, PA 15090
Price: $250  Tickets Now on Sale! 
Develop your intuitive skills, find answers to all your questions, and access the magic within you!
Reality speaks to us in many ways. Cards and other tools of Divination contain symbols that create a resonance which allows us to read the messages inherent within them. The cards serve as a bridge to translate thoughts into concepts to be used for growth and knowledge.

The techniques taught in this workshop will enable you to develop your intuitive skills, enhance your sensitivity, reach higher levels of consciousness, find answers to all your questions, and act with calm decisiveness in any situation. Theory and practice will weave together to make this course a fun but deeply insightful experience of the magic that's possible to access in daily life, by anyone.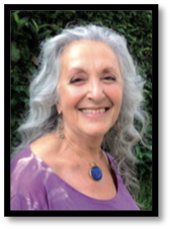 Shama Viola (Manuela Terraluna)
Shama lived in the USA from 1968 to 2001. Those 33 years were dedicated to art, spirituality and teaching conscious awareness. Her life was exciting and full, from the 6 years she spent working with Francis Ford Coppola to the ones that she lived, worked, and traveled with Shakti Gawain, to the powerful years she spent in the Hawaiian Islands. In 2001, answering a strong soul's calling, Shama returned to her native Italy to become a Citizen of Damanhur, where she has spent the past sixteen years participating in Damanhur's esoteric traditions and practical approach to sacredness, rituals and conscious living.
About Damanhur

Damanhur is a living laboratory for the future of humankind. It is a Federation of Spiritual Communities, with its own Constitution, culture, art, music, currency, schools and use of science and technology. The Community was founded in 1975 from the inspiration of Falco Tarassaco (1950-2013). His enlightened and pragmatic vision created a fertile reality based on solidarity, sharing, love and respect for the environment. Damanhur is perhaps best known for its extraordinary subterranean work of art and architecture, a cathedral known as the Temples of Humankind. The Temples have been profiled on international television as the "Eighth Wonder of The World." This complex was entirely dug by hand into the heart of the mountain. Decorated with mosaics, stained glass, sculptures, wall paintings and other works of art, it is dedicated to the awakening of the divine spark present within every human being.
To read more about Damanhur, visit http://www.damanhur.org/