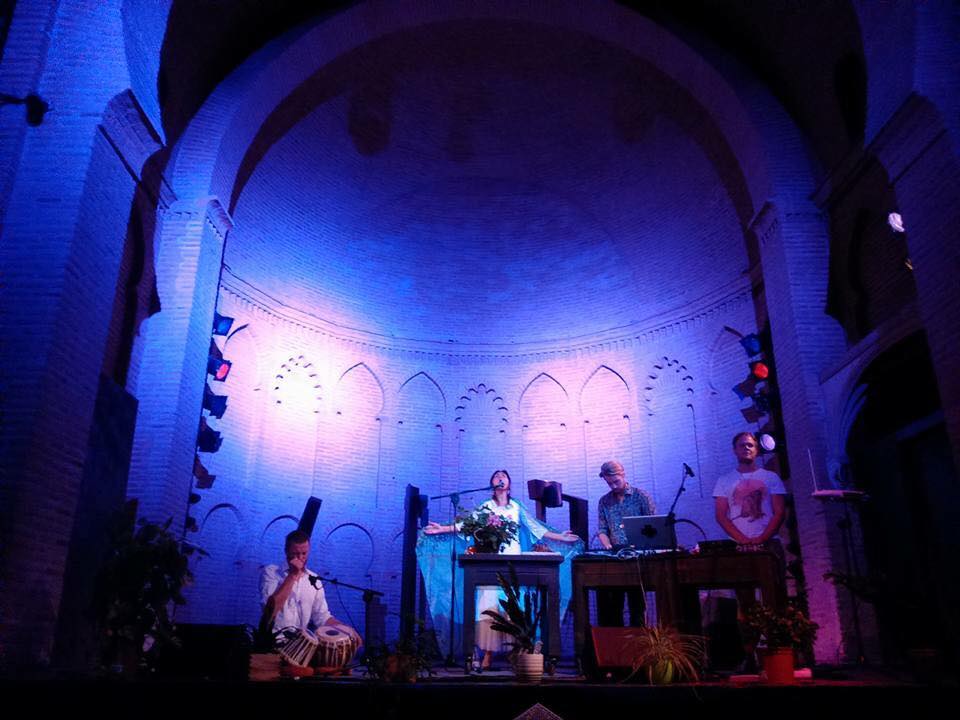 An INTERSPECIES MUSIC Event!
7:00 pm 9:00 pm - Doors open 6:15 with light refreshments
East End Cooperative Ministry
6140 Station Street, Pittsburgh, PA 15206
Enter EECM from ENTRANCE B on Harvard Street / Convenient Public Parking, also FREE parking on Harvard St and FREE parking at Kindom Light Ministries on Center Ave directly across from EECM.
(OMA strives to make our events affordable for everyone. Please email if you cannot afford a ticket at this time.)
Tritone Crisantemo from the Federation of Damanhur in Italy, with Pittsburgh musicians Jenn Davidson, Stephanie Miller, Steve Sciulli and Brooke Smokelin will perform in concert with plants that are connected to a "Symphony" device giving them musical voices with the ability to create sounds and melodies that respond to their environment and interaction with humans.
Playing music with plants is a great adventure into the understanding and nature of the plant species, with which we share this planet's biosphere and are intrinsically and biologically connected. Through exploration and collaboration with the plant world, we expand our consciousness and learn how to live more harmoniously and organically.
The Masterplants Orchestra strives to act as a bridge across the many different worlds that exist on this planet and deeply values the immense complexity of expression of all the species with whom we are sharing a divine, spiritual and physical ecosystem.

Masterplants is the world's first interspecies orchestra, using modern technology to play music with our friendly flora. By converting the biorhythms of plants into musical notes and melodies, musicians, plants and sound engineers together cocreate a sound experience taking us on a sensory journey, awakening in ourselves that which we have always known... that nature has its own unique song with its own harmonious sense... whose sounds are created to unite and vibrate as one. A concert by Masterplants can be a life-altering experience, opening doors for all who are receptive, to a new awareness of the presence of plants and nature.
The Masterplants Orchestra includes one or more muscians inspired by the technology of the Music of the Plants, as developed by the Community of Damanhur in Italy. Utilizing a Masterplants "Symphony" device, which builds on technology invented from years of Damanhur research, as many as 8 plants together are given voice to play their music contemporaneously, with soundscapes and the musical and poetic interaction of humans. Core members of Masterplants Orchestra may also collaborate with varying musicians, from classical schooled violinists to tribal percussionists. Every concert and song performance brings a unique sound experience, taking us on a journey through the plant world, deep into forests and deep inside ourselves.
The "Symphony" device that Masterplants uses is based on technology from research at Damanhur that gives plants a musical voice. Damanhur discovered that by connecting electrodes to a plant and measuring the miniscule electrical resistance in the plant's anatomy, these  measurements can be translated into MIDI (Musical Instrument Digital Interface) notes. In this way, the plants are given access to the language of human music. They can change the musical notes by changing the electrical resistance in their plant bodies and they do so with fascinating results for human ears, especially as they seemingly respond to their human collaborators when in concert!
Every Masterplants concert is a unique mix of musicians and plants that perform extemporaneously together... the plants with their musical voices and the humans with their instruments, soundscapes and poetic interaction. The result is a magical tapestry of sounds and music that can touch our souls and inspire great appreciation and wonder for life and nature.