And connect with those on the other side.
1:00 pm - 3:00 pm
Zoom Event
Donation Requested
Communicate with your angels and guides and those on the other side--They are walking with you on this Earthly journey. Emily Pompei will channel to you what she sees with any messages your angels, guides and those on the other side have for you. 
At a young age, Emily Pompei knew she was never alone and always had a sense of "fearlessness" even though she experienced unexplained recurring nightmares. Through meditation and prayer she was able to heal herself from negative thoughts and energy and has made it her life's work to help others heal in the very same way.
In her practice as a Medical Intuitive she is able to discern, through channel, what works best in treating a person by connecting with their Angels, Spirit Guides and their own Divine Light.
In this session, Emily will reveal for audience members what our angels and guides are communicating and telling us through her Medical Intuitive channel. Emily will share answers to questions or requests made by those seeking a connection.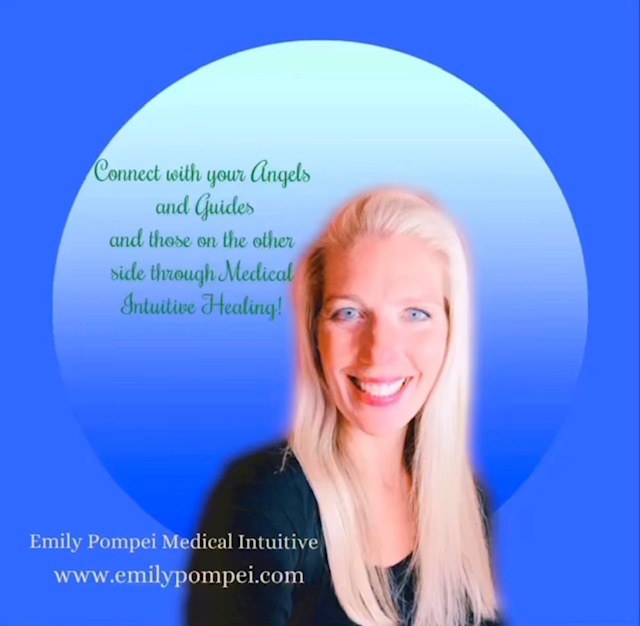 Emily is the only Medical Intuitive in Pennsylvania and one of 64 who practice as Medical Intuitives in the world. People are quickly learning, welcoming and benefiting from her gifts in this realm.
Emily channels the Divine Energy of Spirit. She is able to connect with Angels, Guides, and those on the other side and reveal their messages. Testimony of her healing work can be found on her website, www.emilypompei.com.
Emily was told once by a mentor that she sees "everything, literally everything" therefore she has become a Master of her own discernment.
In her practice as a Medical Intuitive, Emily is able to discern through channel what is the most effective modality of treatment for each client and their individual needs.
Her process of evaluation is an initial assessment where she is able to detect higher and lower vibrational patterns in the body as well as any blocks in the Auric Field.
Medical Intuitive Professional Healer ™️
Angel Readings
Member of the America Holistic Health Association
Member of Holistic Chamber of Commerce
Founder of Aquaduct Intuitive Healing Institute TM