Presented by Deb Thackrah
11:30 am - 1 pm
Green Heiress Building 1
209 Commercial Avenue, Aspinwall PA 15215
Sponsored by OMA
PRICE: $20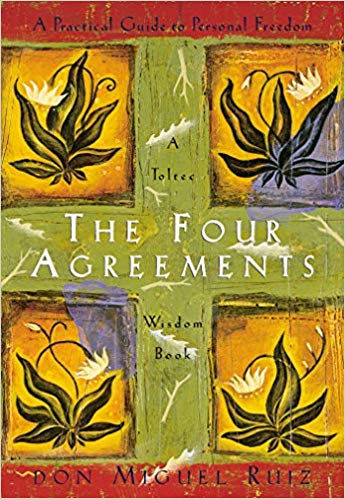 In his best selling book The Four Agreements, Don Miguel Ruiz offers a powerful code of conduct, based on ancient Toltec wisdom, that can rapidly transform our lives to a new experience of freedom, true happiness, and love.

THE FOUR AGREEMENTS
Be Impeccable with your Word
Don't Take Anything Personally
Don't Make Assumptions
Always Do Your Best

Join us as Deb Thackrah teaches us, that with practice, these agreements can become integrated into our very being and therefore every area of our lives. "You need a very strong will in order to adopt the Four Agreements—but if you can begin to live your life with these agreements, the transformation in your life will be amazing. You will see the drama of hell disappear right before your very eyes. Instead of living in a dream of hell, you will be creating a new dream—your personal dream of heaven." ~ don Miguel Ruiz
At age 15, a time when most young people were thinking about junior proms and driver's learners permits, Debbie Thackrah was exploring Transcendental Meditation and the works of Carlos Castaneda.
Her early spiritual seeking steadily evolved into a life-long journey that has carried her to an ashram in the Catskills of New York State, the desert canyons of Zion National Park in Utah, and half way across the world to South Africa, the Himalayan Mountains of India and south to Costa Rica. Debbie studies the ways of shamans and honored the teachers of Christian, Native American and Buddhist traditions.
Debbie's guiding principles include service to others, compassion for all living things, and healing practices, which are the result of her decades of study and her practical, clear-eyed view of what it means to be human.
Debbie is a master-level Reiki practitioner, medical intuitive and a cranial-sacral therapist. She has spent many years studying extensively with Bill Bauman, a modern day mystic who helps people live in deep unity with their soul's special wisdom. Debbie has also studied with the Native American elders learning their wisdom of their healing practices.

Debbie is an ordained minister who performs marriage and funeral services by request. She  is the founder and president of Feeding the Spirit, a successful non-profit organization in Greensburg, PA. Feeding the Spirit is dedicated to supplying food to all those in need in the community and shelter to the homeless.